Your help for the Mai Mihogo children
Thank you so much for helping us sustain the Helpcode project to support and protect the children Mai Mihogo in the Democratic Republic of the Congo through your solidarity.
THANK YOU SO MUCH!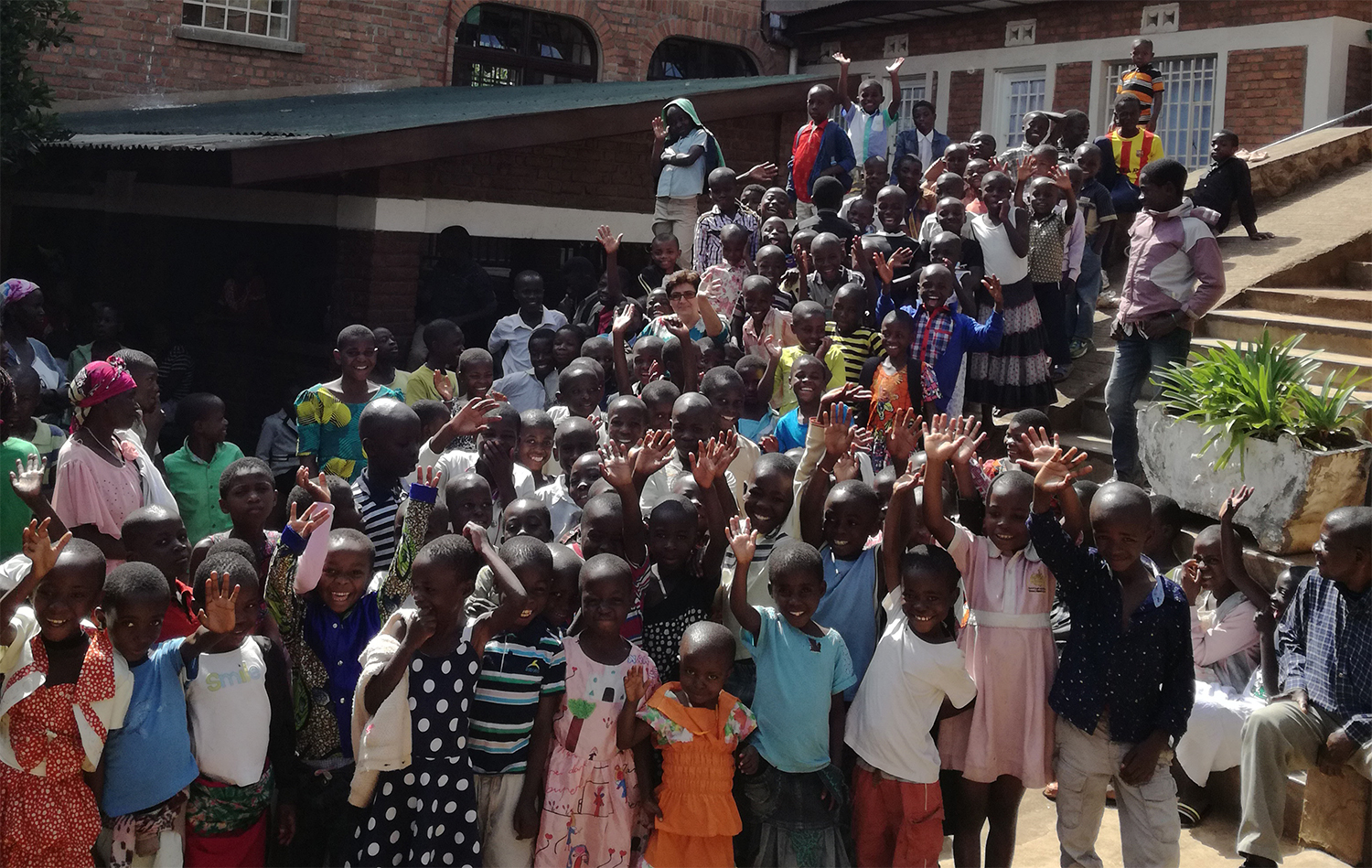 Thank you because only with special people like you on our side we can continue to defend their rights and their protection. You have supported the Ek'Abana centre, a small oasis, perched on a hill, protected by two guardian angels designed by a Bukavu artist for Natalina Isella, the lay nun who set up this location. A gift that she greatly appreciated as she claims they are better than having two guardians.
Whether you are religious or not, Ek'Abana is a truly protected place. Within its walls, approximately forty girls and boys live and grow up in the warmth of a truly extended family, made up of educators, and relationships between peers. Natalina is in some way everyone's mother.
The children Mai Mihogo
READ MORE
In local language, they are called Mai-Mihogo, which means cassava-water. They are the children living on the streets. They spend the day trying to trade water with cassava flour in order to eat something.
They come down from the hills towards the lake, where there is a large number of people, and offer the water they are carrying on their shoulders. When it rains, the roads are full of mud and you can slip. When it does not rain, the roads are still treacherous, because they are full of waste and sewage. It really looks like a devilish pit that you cannot even imagine.
This is life in Bukavu: hard, dangerous, full of pitfalls.
The Ek'Abana centre and the girls accused of witchcraft
READ MORE
Our operation focuses on Bukavu – an urban area in the Great Lakes region – where we work with Foyer Ek'abana. The centre was founded in 2001, its objective is the recovery, education and social and professional integration of girls and teenagers who, for various reasons – among which not least the accusation of witchcraft – , are at the margins of society.
Even today, in the Democratic Republic of the Congo it is possible to be marginalized based on charges of witchcraft. A heavy accusation, which justifies every form of violence, and sometimes even leads to death.
A serious accusation, especially for children who do not even understand the reasons. Our claim is to change the world of one child at a time and we start from them, the smallest, marginalized and vulnerable ones.
Today, thanks to the great awareness work done by the Ek'abana centre, this problem has a minor impact in the city of Bukavu, but there is still much to do to eradicate socio-cultural convictions and beliefs, reinforced by the new poverty and globalization that drives people away from tradition. Above all, we strive to support an increasing number of children at the margins.
The story of Dany
READ MORE
This story well represents the spirit of the centre. Dany is an extraordinary, friendly and lively child. He is five years old, but he looks like if he were only two, due to the malnutrition he suffered.
His mother is a very young woman, abandoned by her husband who never wanted to recognise the little Dany.
Dany spends his days on the street and sometimes the rain drags him away along with the mud. Dany's aunt decided to intervene and take the child with her. He is very undernourished, he does not grow and so she decides to take him to the hospital where he starts a nutritional therapy. He stays there for almost one year and once he is out of the hospital, the mother, seeing him in good health, tells her sister that she will take care of him again. However, soon Dany is not looked after.
His aunt takes him back with her, but she already has eight children and children with malnutrition problems need lots of care and attention, to be changed many times once they start eating again.
His cheerful character and his tenderness win over the hearts of anyone who meets him, yet no one manages to take care of him full time.
The aunt, given the difficult situation she lives in the Democratic Republic of the Congo, decides to move to Rwanda to live with another brother as she is unable to make ends meet in Bukavu with her eight children, but Dany cannot go with them. It is time for him to go elsewhere. This elsewhere is called Ek'abana. The aunt does not leave him light-heartedly, because she is very fond of Dany, but the difficulties force her to make this choice.
As soon as he arrived at the centre, love blossomed and Dany became the mascot of the Ek'abana foyer. Dany wants to help, he wants to feel useful, and, looking at her with his big sweet eyes, he always asks Natalina: "Can I help you?" He searches in particular for a male figure: a dad for him. For this reason, you can often see him play with the gardener, the guardian and Benja, our library volunteer, who seems to become a kind of big brother for him.
When in the evening Benja leaves the centre to go home, big tears are in Dany's eyes, he is inconsolable.
One day Natalina, pleasantly surprised by the bond between Dany and Benja, asks him: "Why don't you take him with you?" Benja feels a very strong desire to take care of the little one full-time, he would like to take him with him, but he is only 24 years old, not married and still lives at home with his parents. Furthermore, he is unemployed and there are already five children at home, orphans of his brother who died unexpectedly two years earlier. The mother works as a teacher and the father is a small merchant, a willing family but with limited means available.
Dany is always looking for his "kaka Benja" (brother Benja), Benja's desire to take care of Dany is great, as is the uncertainty of being able to do it. One day he takes the courage and decides to propose this to his family. To do this, he decides to take Dany with him. It is love at first sight and Dany conquers the heart of the whole family.
Benja's mother is afraid of not having the means to let Dany study, but the Ek'abana centre will cover the costs for school and any medical treatment.
This is the turning point in Dany's life! Finally, at the age of 5, Dany has a family that, despite not being wealthy, has been able to make room for him and give him a place of his own.
On that day, when Dany left Ek'abana, he was radiant, hiding his face in Benja's arms and playing with his new mum's skirt. He said good-bye to everyone with his delicate little hand and a disarming smile. A smile that the Ek'abana operators will not easily forget. Now Dany receives the love and protection of a family.  Every child is entitled to this love and protection. An inalienable right.
This represents the Ek'Abana centre. A second chance for many children.
You are the second chance for many children.
Natalina Isella
READ MORE
Sister Natalina Isella, 70 years old, originally from Barzago, in the province of Lecco, has been in the Democratic Republic of the Congo for more than 40 years, working with children and the most desperate circumstances.
"One of the most important problems is that fathers, who are desperate for their inability to support their wife and children, decide to leave the city and "go to the forest" in search of other income, such as the search and the sale of gold. However, this search does not give good results and in any case, men decide not to return home due to an ancestral feeling of shame. In doing so, other boys and girls are left alone or only with their mother, often hosted by the families of other relatives. Though it apparently may seem a gesture of charity, these situations are often dramatic: as soon as the first problems arise, these children are taken as scapegoats and accused of witchcraft".
These are the words of Natalina Isella who narrates about this sad reality with a calm but firm and intense voice.
The Ek'Abana centre
READ MORE
She founded the Foyer Ek'abana in 2001, whose objective is the recovery, education and social and professional integration of girls and teenagers who have suffered from atrocious violence – among which not least, the accusation of witchcraft – for various reasons.
The activity of the centre aims at school reintegration of the children, in addition to the psycho-physical recovery and literacy of 50 marginalized adolescents accused of witchcraft.
The centre works and is active in the reintegration of these girls into their family of origin, through a long process.
In addition to the children housed in the centre, there are 1600 more, who live with their families, but their primary education and health care, for the most serious cases, are guaranteed in order to give everyone a chance.
Find out more about our activities in the Democratic Republic of the Congo!